JSTOR Compilations
JSTOR Compilations is a global list to which a Forum cataloger can add local values. The categorical, thematic, or descriptive grouping compiles the item into a larger subcollection within JSTOR Shared Collections.
For example: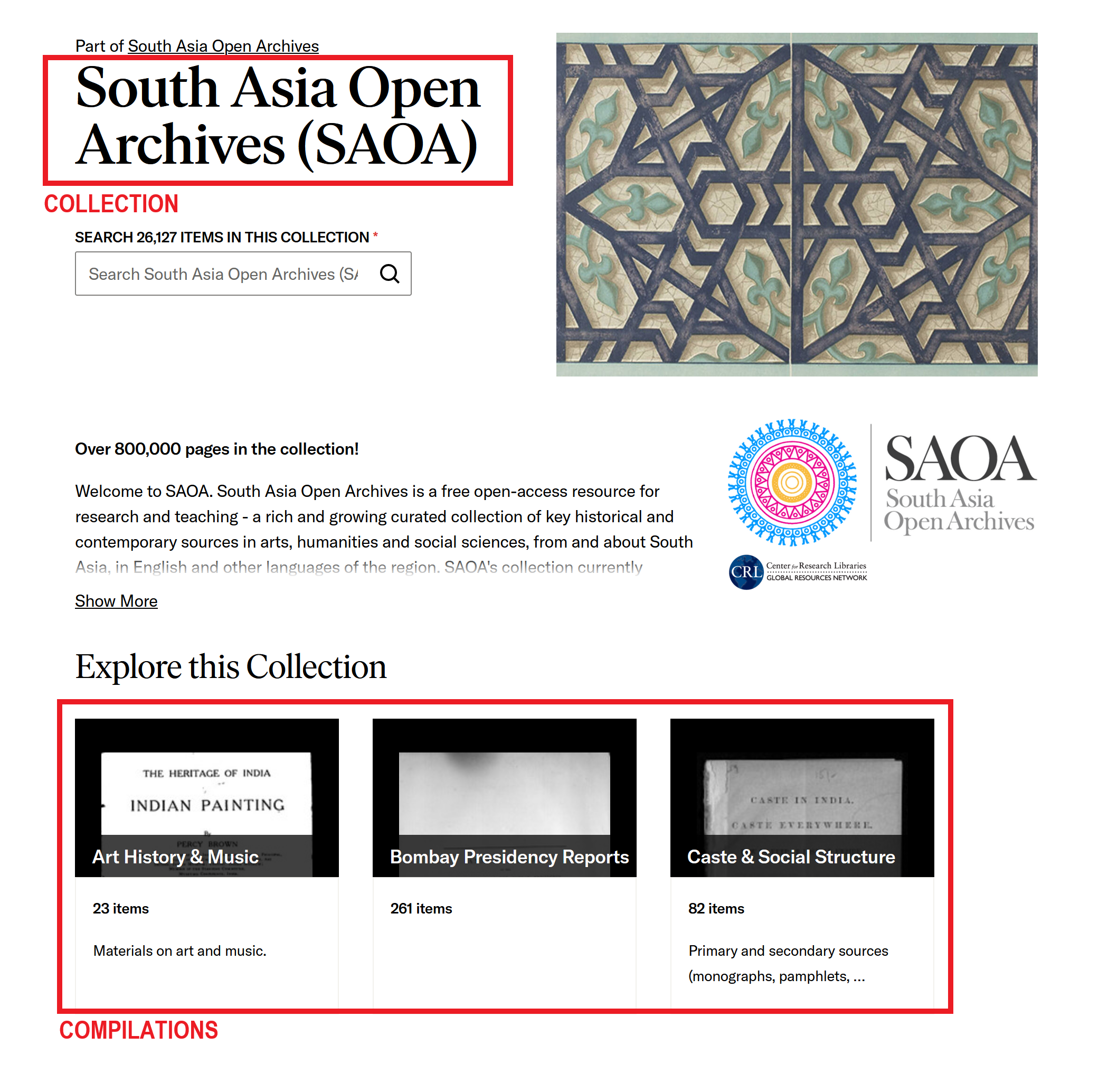 JSTOR site: South Asia Open Archives on JSTOR
Compilation: Women & Gender on JSTOR
Setting up a JSTOR Compilation
The JSTOR Compilation list is auto-configured to the Compilation field when setting up a new project using the JSTOR template. For projects that were not set up with the JSTOR template, you'll need to add a new List Field, and link it to the JSTOR Compilation list in your project.
Note: Each item may be cataloged with one Compilation term; multiple terms on a single item are not supported. Updating or adding additional terms to an item's Compilation field will overwrite existing terms.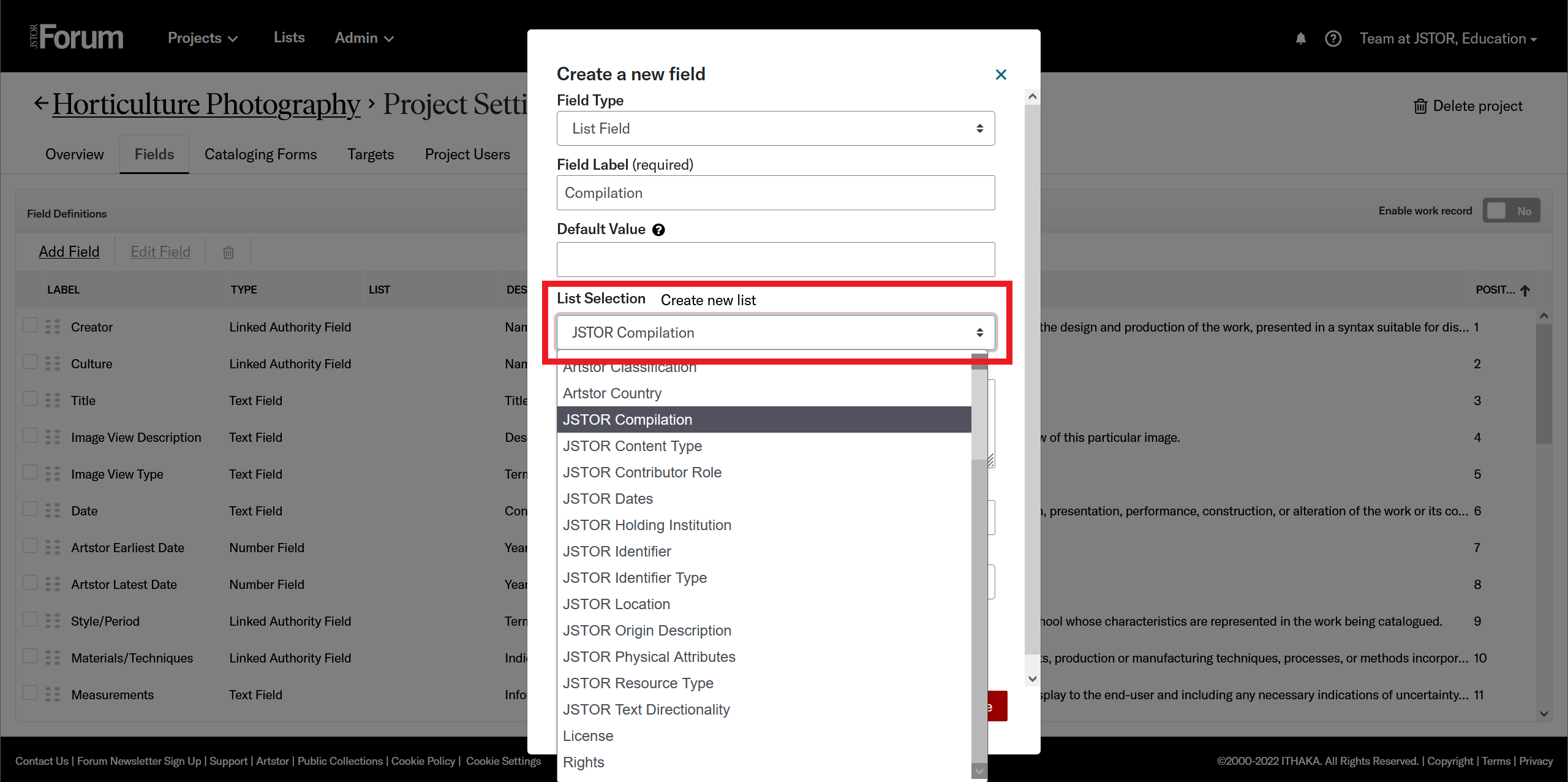 When setting up a JSTOR Collection Target, the Compilation project field should map to the JSTOR Compilation field. Please check your mapping before publishing.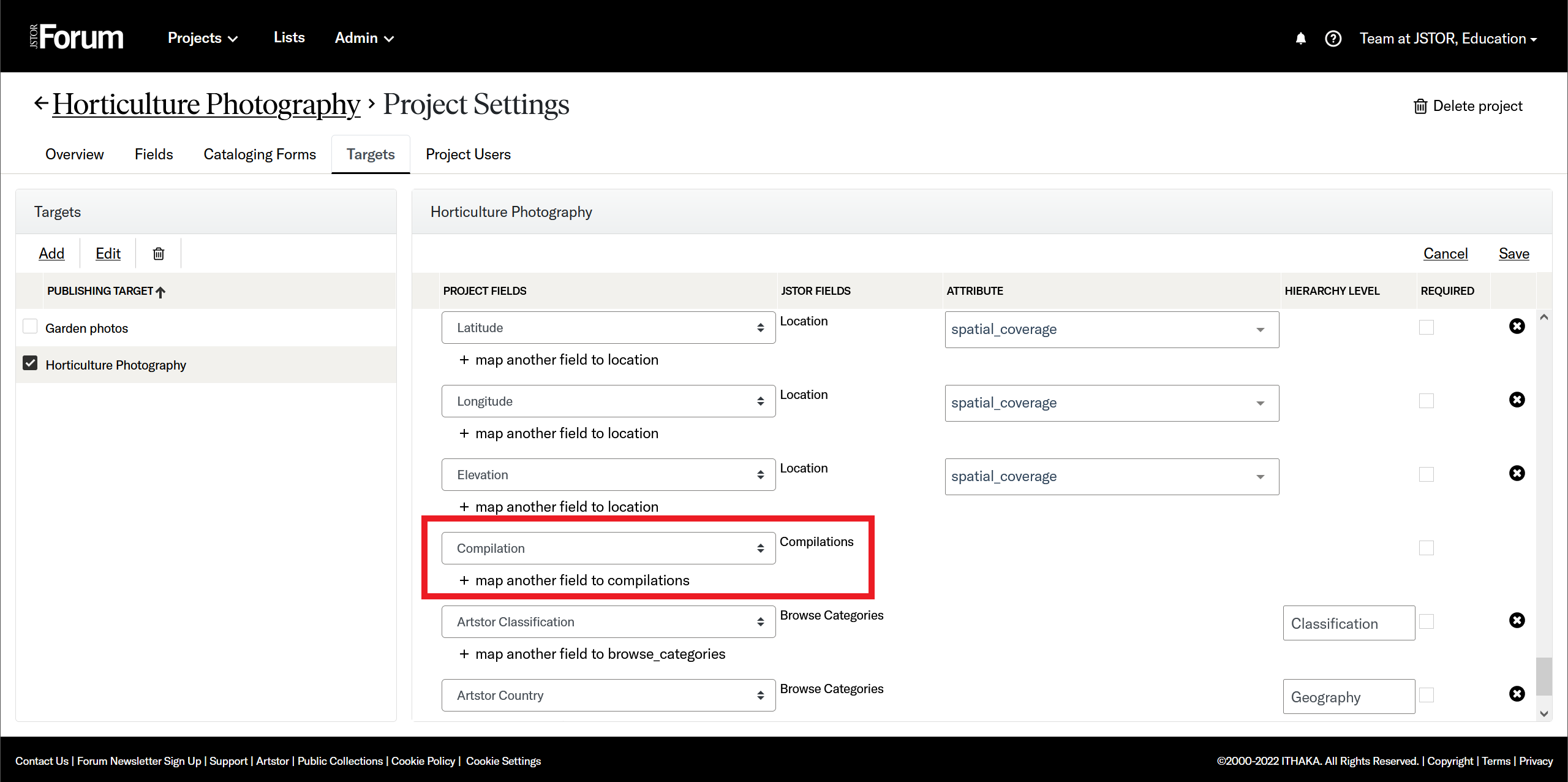 Upon publishing, the content in the Compilation will appear as a sub-collection on JSTOR, which will also appear as a facet in the "Refine Results" sidebar within search results and on collection pages. See "Refining results within a collection" to learn more.
JSTOR Containers
A Container describes the larger work or hierarchical organization that contains the item. Some examples of Containers include:
a title of a book, containing individual chapters
a title of a periodical, containing issues or articles
a series, box, and folder hierarchy in an archival collection
For example: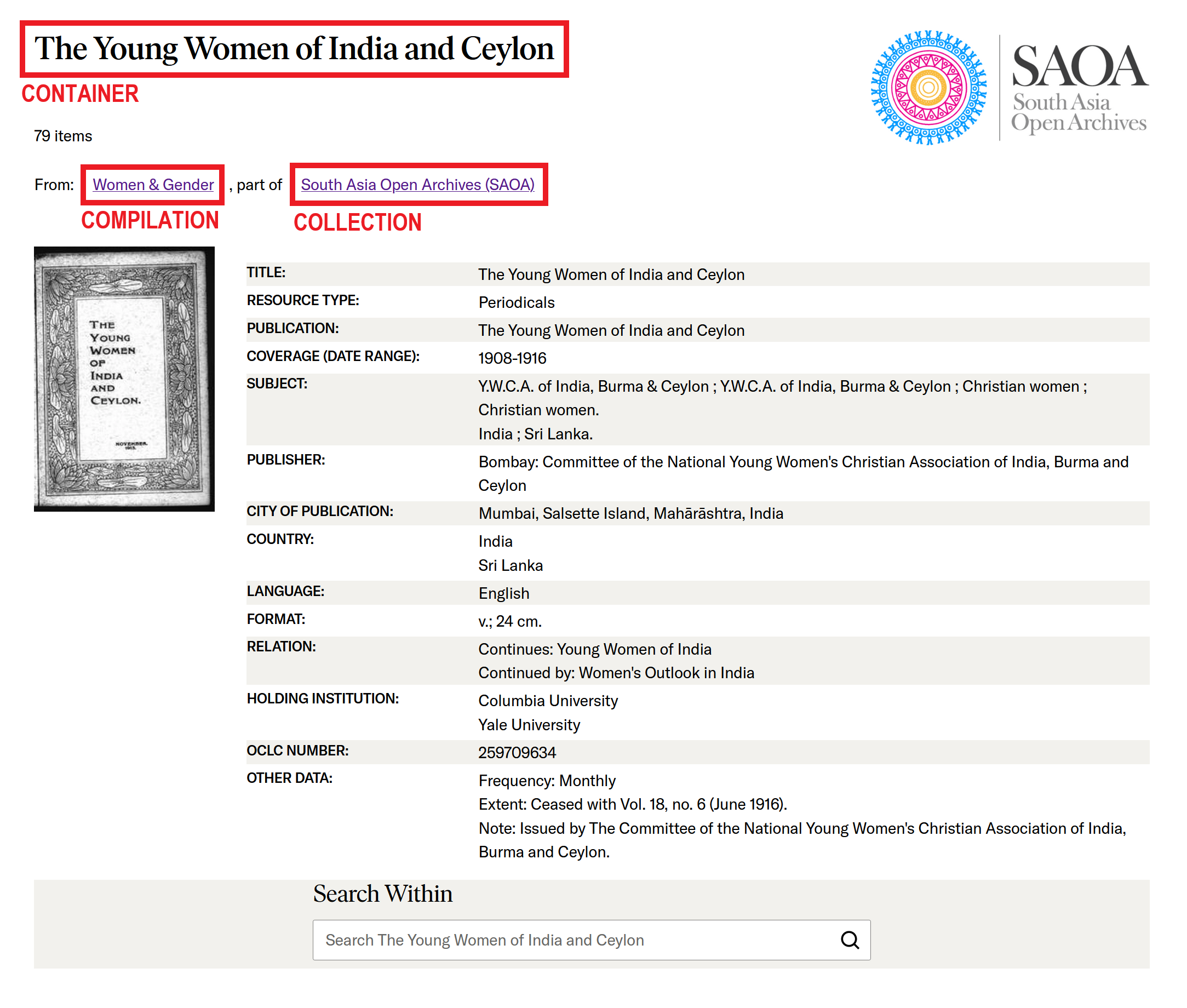 JSTOR site: South Asia Open Archives on JSTOR
Compilation: Women & Gender on JSTOR
Container: The Young Women of India and Ceylon on JSTOR
Setting up a JSTOR Container
Container lists are not default in Forum. You'll need to create a new Container list in your Forum project.
To create a new Container list:
In your project, select "Lists".
Open the "Actions" drop-down menu and select "New".
Select "Container" from the menu and click "Next".
Provide a name for your new Container and click "Add Container".
You'll only need to create one Container list in Forum for all of your Container terms. For example, a "Periodicals" Container would contain all of the periodical titles in your project. Once the Container list has been created, add a new field to your project.
To add a new field to your project:
In your project, select "Project Settings".
Select the "Fields" tab.
Select "Add Field".
For "Field Type" choose "List Field".
Under "Field Label" enter your Container name. (For example, "Periodicals".)
In the "List Selection" drop-down, select the corresponding Container list.
Select the checkbox for any cataloging form(s) you'd like to add the field to.
Click "Create".
In your project mapping, the Container field should be mapped to the JSTOR Container.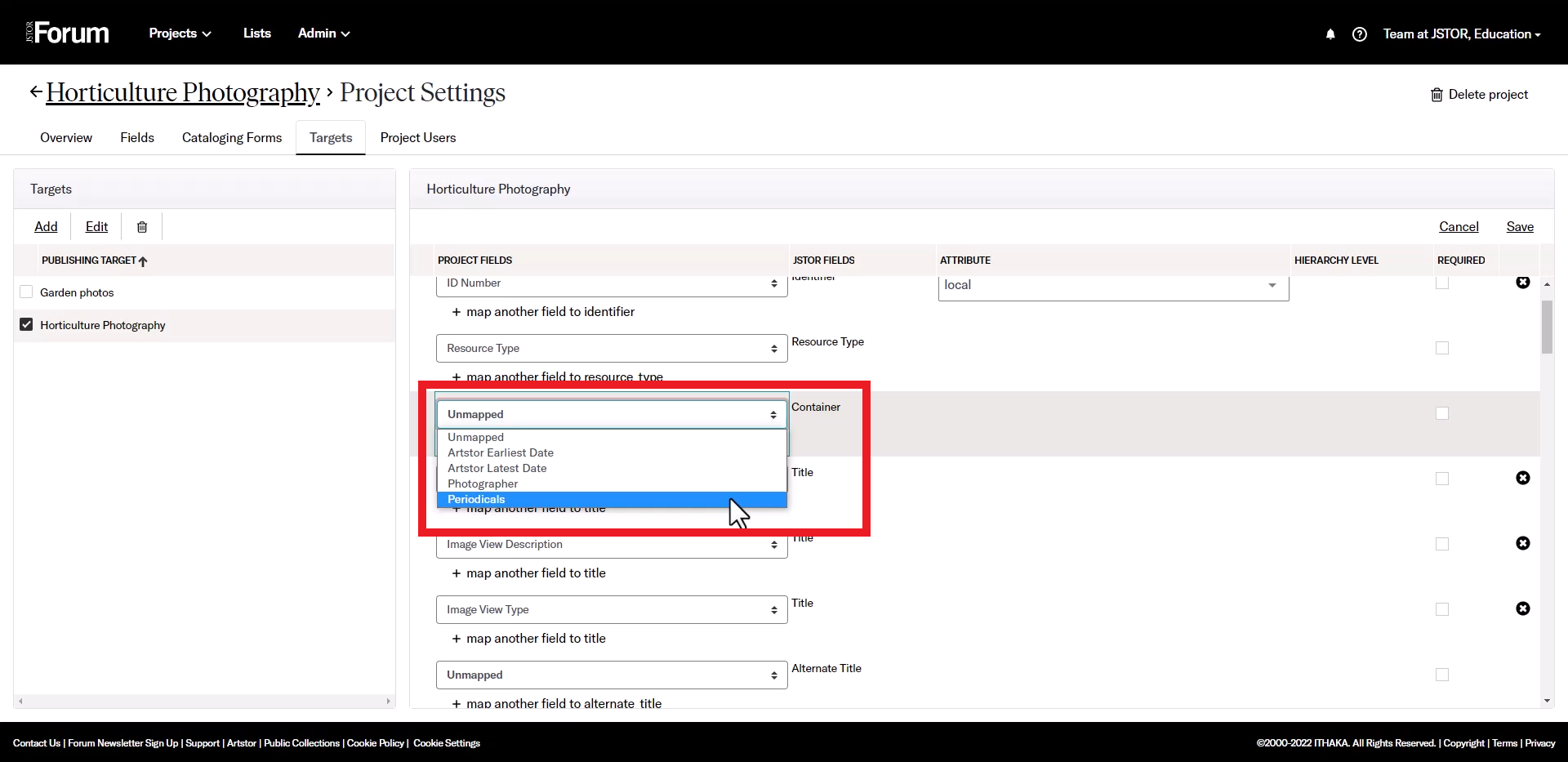 Remember to check mapping before publishing, and edit the mapping if necessary. Please visit the Manage Project Fields page for more details on setting up new fields in your cataloging form.
For more information on using lists in Forum, see Manage Lists.